Noorani Qaida is the very best book for kids and adults to learn how to read the Arabic language to be able later on to read, recite and understand the Holy Quran. Here, at Almuhammadi Academy, we provide Muslims across the globe with Noorani Qaida books online to read or download to their gadgets to read it later on
Versions of Noorani Qaida Book (Read/Download Free)
We likewise use numerous versions of this book in numerous languages such as English, Arabic, and Urdu Language:
1. Noorani Qaida in English
There are about 17 chapters in this book (Qaida book) and each lesson is divided regard to the level of difficulty in teaching Arabic action by action. With its user-friendly features, High quality, color-coded Arabic alphabets, and descriptions in English and likewise. Accordingly, the Qaida book will be the finest option for you to download to your phone or your computer to learn Quranic Arabic.
2. Noorani Qaida with Tajweed
This book includes almost all the guidelines for pronunciation of the recitation of the Holy Quran. In order to read the Arabic language and the Holy Quran with the right accent and Tajweed rules, You have to learn to read Qaida Noorania (Qaida) book with the right accent and Tajweed rules.
3. Noorani Qaida in Urdu
For Indians and Pakistanis, Urdu-Arabic Noorani Qaida pdf is the basic course for every single new newbie student who wishes to recite the Quran. In Arabic Qaida, you will be able to learn to pronounce Arabic alphabets and sounds. How to join two letters together and make Arabic words. After the conclusion of this course, you can recite the Quran quickly.
Importance of Learning Noorani Qaida
Noorani Qaida app is an interactive Quran learning app to teach Muslim kids and adults how to read Arabic in the Quran. This Qaida has actually been specifically developed to help Muslims learn to recite the Quran through audio.
The importance of learning the Quran is immense and includes unrestricted advantages in this life & hereafter. And given that learning Quran in its initial language (Arabic) is the best way to learn and understand the book of Allah (SWT), Noorani Qaida makes this job much easier & quicker.
The Arabic language is difficult for individuals with various linguistic backgrounds, so it's very essential to get knowledgeable about the basic rules of pronunciation of Arabic words before reciting the Holy Quran, and the very best way to do that is to learn Noorani Qaida.
Accordingly, learning Noorani Qaida perfectly is vital for Quran learning beginners, specifically those whose native tongue is not the Arabic language. Whether they are kids or grownups, this booklet helps to construct a great foundation for learning Quran reading and recitation.
This basic brochure allows the students to understand the basic vowels and movements of the alphabet gradually leading from simple to intricate Ayah of the Quran. For this reason, without learning such a basic brochure, it would be difficult to learn Quran with Tajweed.
Additionally, Noorani Qaida online conserves a great deal of time in 2 methods:
Learning online, in general, is a time-saver; you can take your classes at anytime a day from the benefit of your house.
With Noorani Qaida Online, you won't need to take a complete Arabic reading course before you learn the Holy Quran, you get to do both simultaneously.
Learn Noorani Qaida Online (Lessons)
Almuhammadi Academy is one of the online Quran & Arabic schools that has been working for a long time to teach this booklet with applied manners. For kids & adults, learning the Noorani Qaida book online is very easy and once someone completes this Noorani Qaida book, he/she can read the Holy Quran fluently hooked on the rhythm developed during this course.
Since everyone has their own rhythm of reading the Holy Quran, the basic Qaida book starts with the Arabic language alphabets and pronunciation of the Arabic language and ends with words and vice-making leading the student to be fluently reading self-sufficiently.
Lesson 1: Basic Arabic Alphabets and Individual letters (Huroof e Mufridaat)
In this Noorani Qaida Lesson 1, you'll learn that the Arabic alphabet consists of 29 letters of which 7 letters are pronounced with a full mouth (deeply), and only four letters are pronounced from lips. All of them are single letters and are also known as "Hero of". You'll also learn Makharij of the Arabic Alphabet, Bold and light letters, and the Basic rules of tajweed.
Lesson 2: Compound letters (Murakkabat)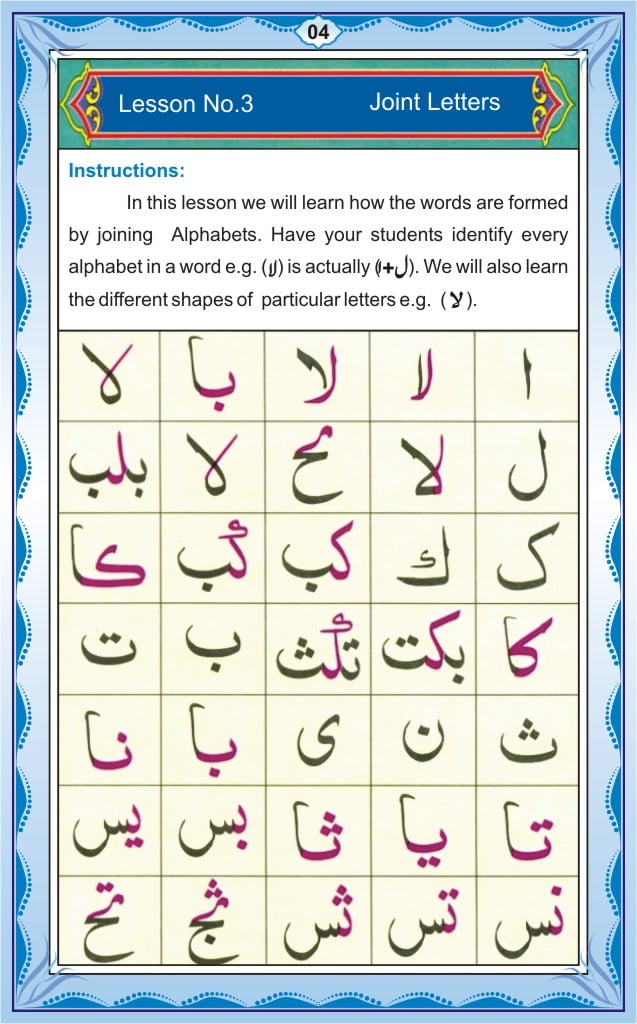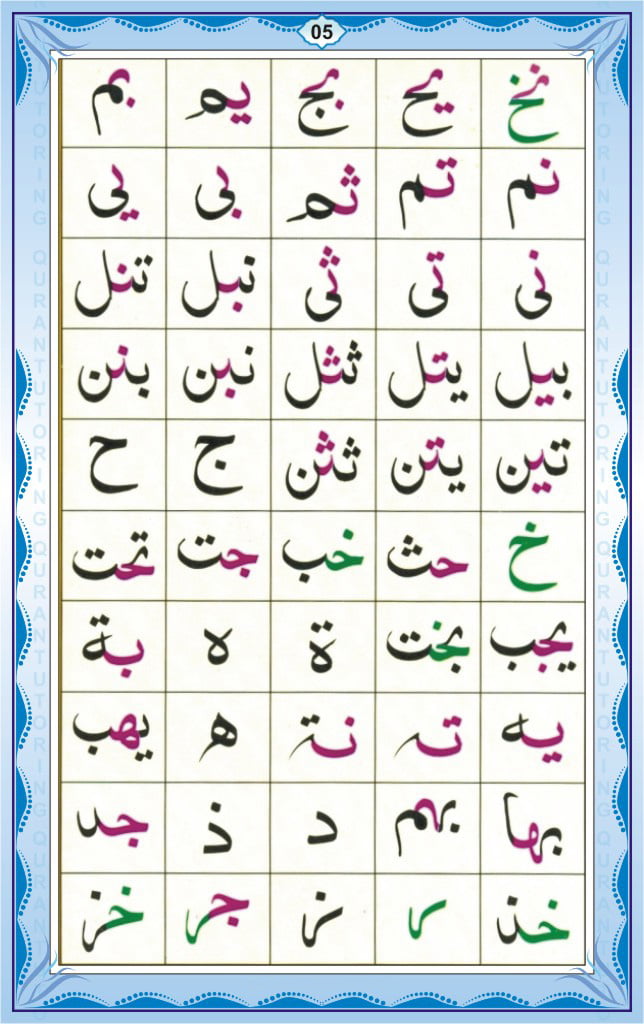 In this lesson, you'll learn the joint letters or compound letters which are also called "Murakkabat". When two or more letters are joined together they form a "Murakkab". You will also learn the different shapes of particular letters. After completing this lesson, students are able to understand the different shapes of the respective letters.
Lesson 3: The Muqattiat Letters (Huroof e Muqataat)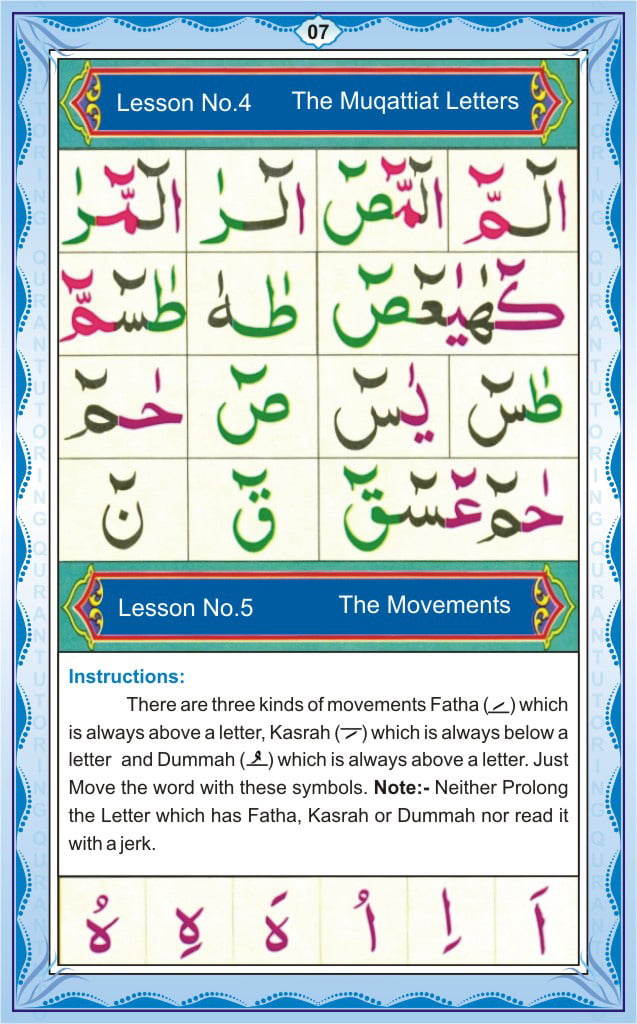 In this lesson, you'll learn the 14 abbreviated words which are known as "Muqatta'at". These are disjointing and disconnected letters. There are 29 Surahs out of 114 in Quran Kareem that starts with the words "Muqatta'at" just after Bismillah.
Lesson 4: The Movements (Harakat)
In this lesson, you'll learn the "Letters Movements" which are also known as "Harkaat". There are three kinds of movements i.e. "Fatha", "Kasra", and "Dammah". These are short vowels in the Arabic Language.
Lesson 5: The Nunation (Tanween)
In this lesson, you'll learn the double Fatha, Double Kasra, and Double Dummah which is known as "Nunation" or "Tanween". They will learn the proper sounds and pronunciations of these symbols and signs.
Lesson 6: The Nunation & Movements (Tanween & Harakat)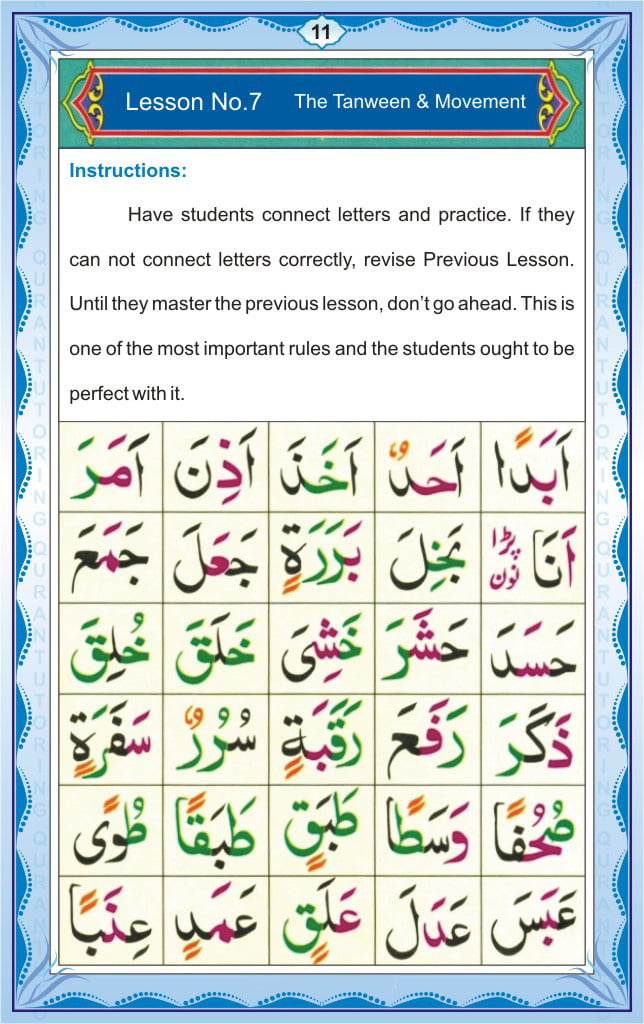 In this lesson, you'll learn the Tanween and movements; how they are combined, and how to connect different letters in accordance with Tajweed rules. It also provides an opportunity for the student to make exercises of Movements and Nunation (Harkaat and Tanween).
Lesson 7: Standing Fatha, Standing Kasrah, and Standing Dummah
In this lesson, you'll learn the Standing Fatha, Standing Kasrah, and Standing Dummah. You'll also learn not to take the maddah letters which come after "Noon" or "Meem" into the nose.
Lesson 8: The MaddoLeen (Maddah Letters)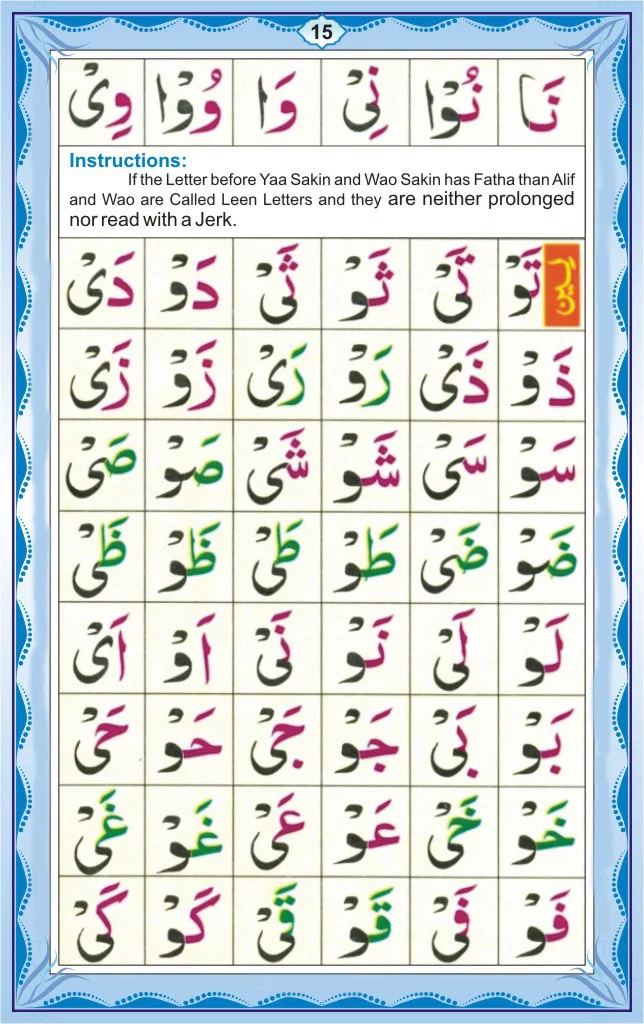 In this lesson, you'll learn "Huroof Madd'ah o Leen". These are soft letters and long vowel signs so these need to prolong equally to one "Alif" or one or two seconds.
Lesson 9: Exercises on MaddoLeen, Tanween, Harakat, and Standing (Fatha, Kasrah, and Dummah)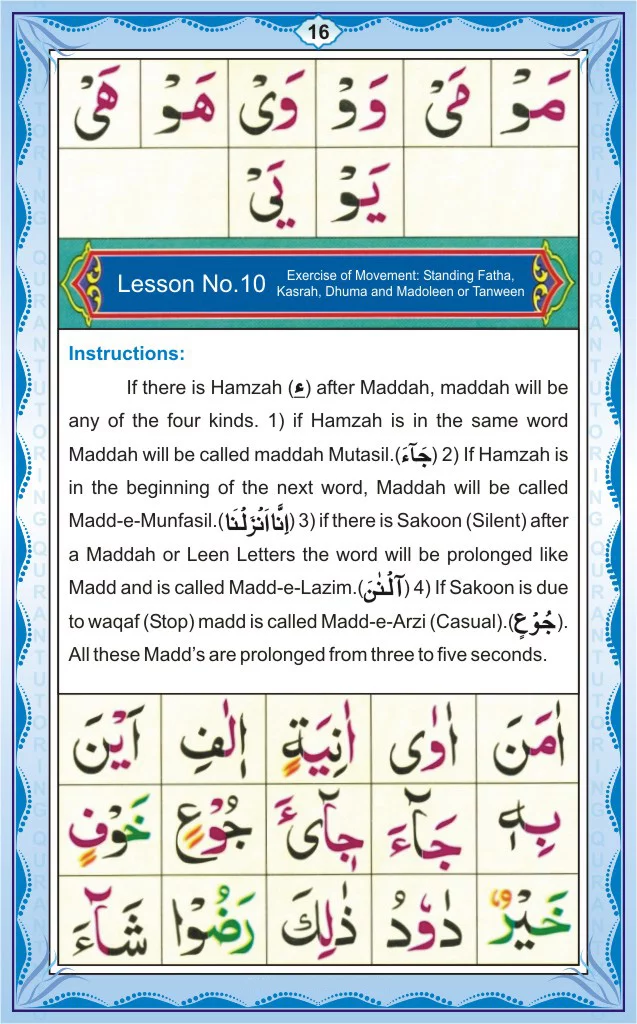 Lesson 10: The Sakoon and Jazm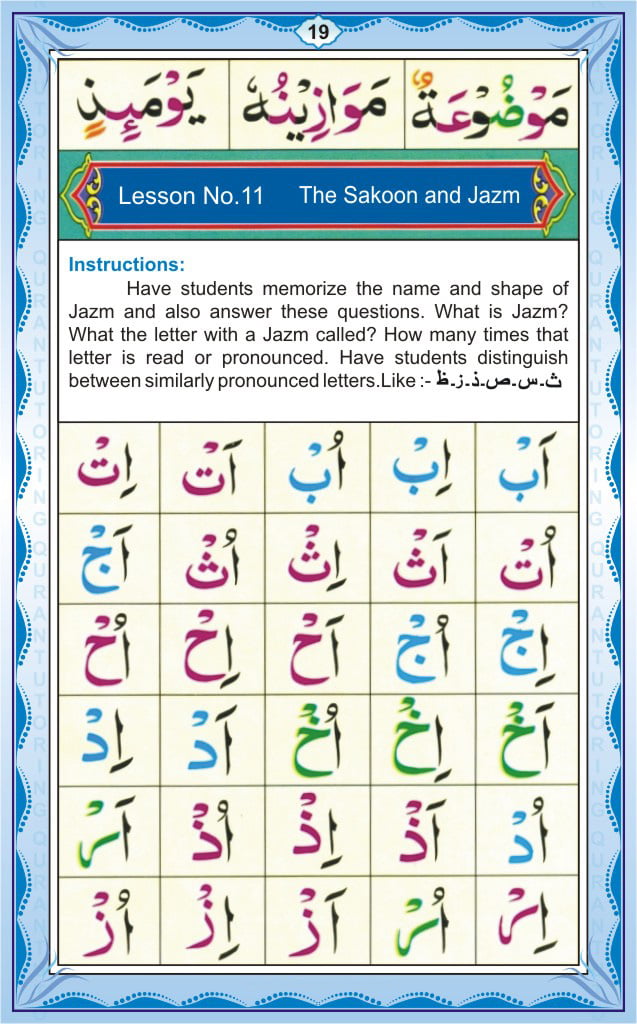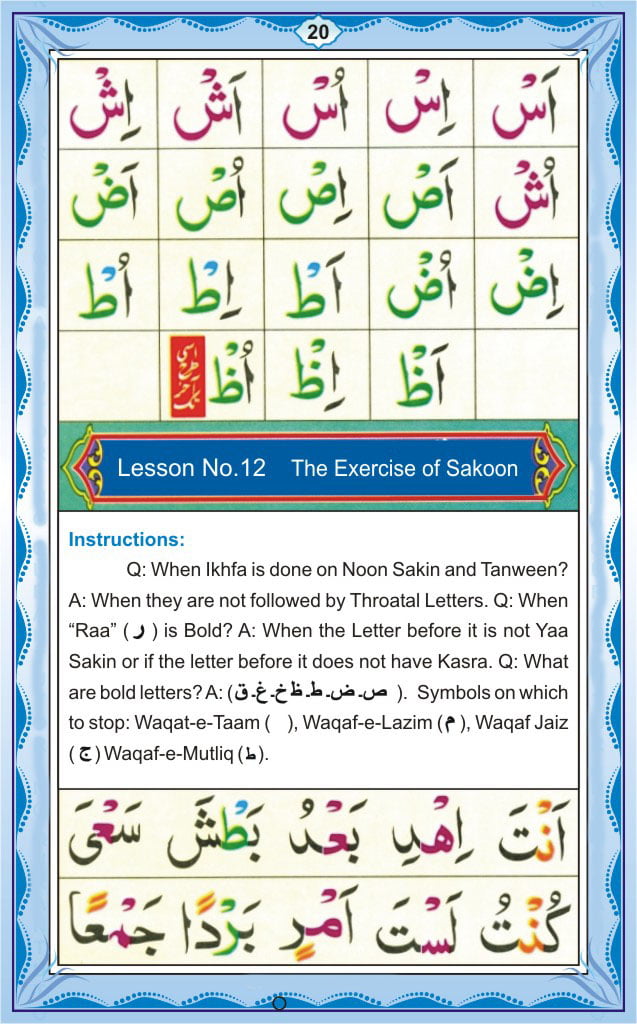 In this lesson, you'll learn about "Sakoon" and "Jazm", In addition to "Huroof e Qalqalah". You will memorize the name and shape of Jazam. After completing this lesson the students will be able to identify the letters with Jazm.
Lesson 11: Exercises on "Sakoon" and "Jazm"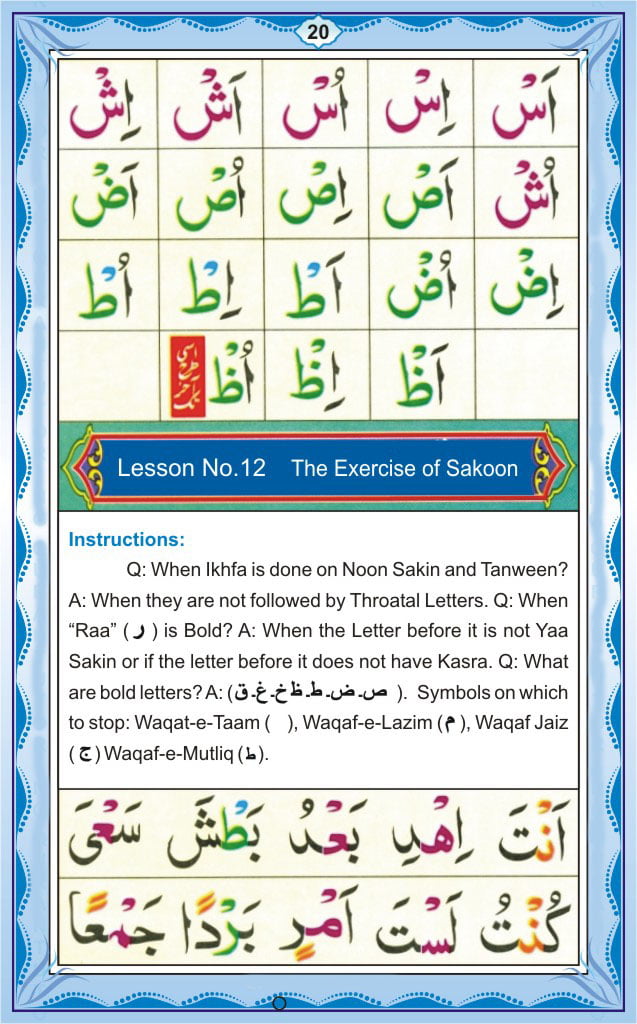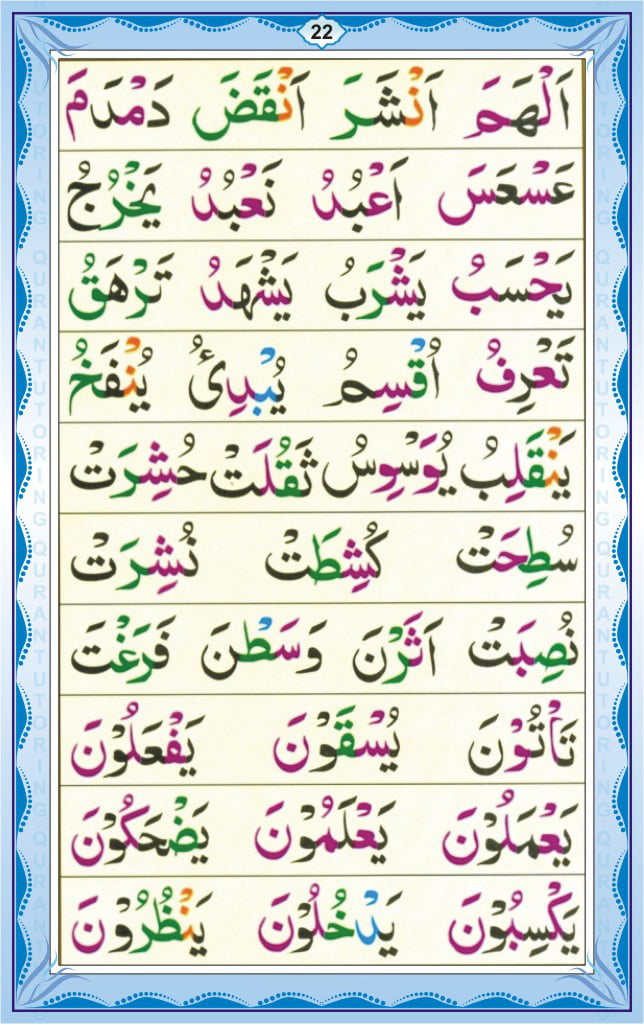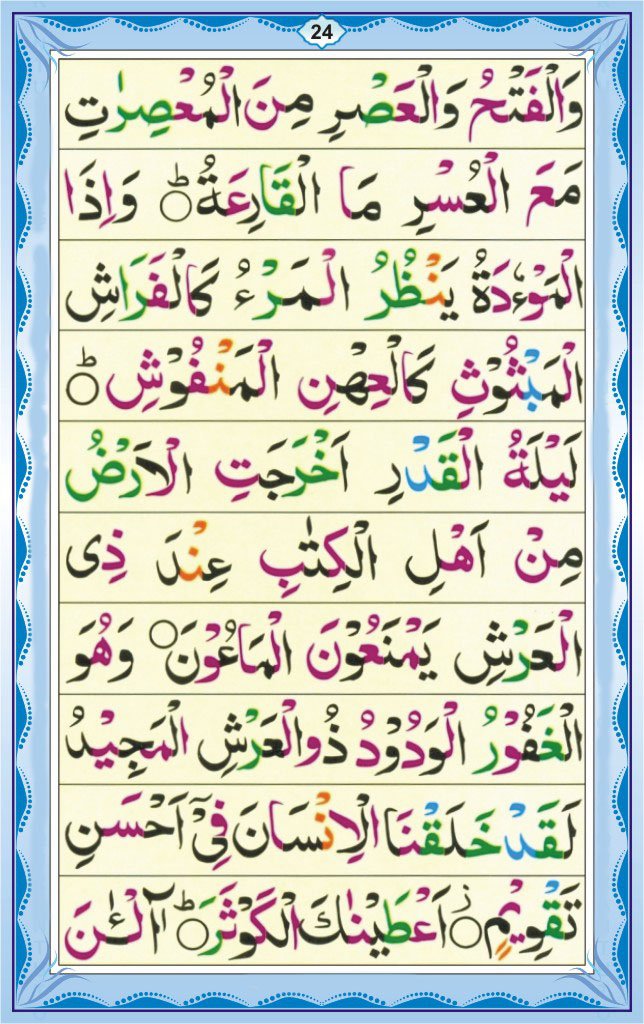 In this lesson, you'll exercise on "Sakoon" and "Jazm". When Ikhfaa is done on noon sakinah and Tanween? When the Raa letter is bold? The types of stops and when the stop is necessary and when not.
Lesson 12: The Duplication Sign (Tashdeed)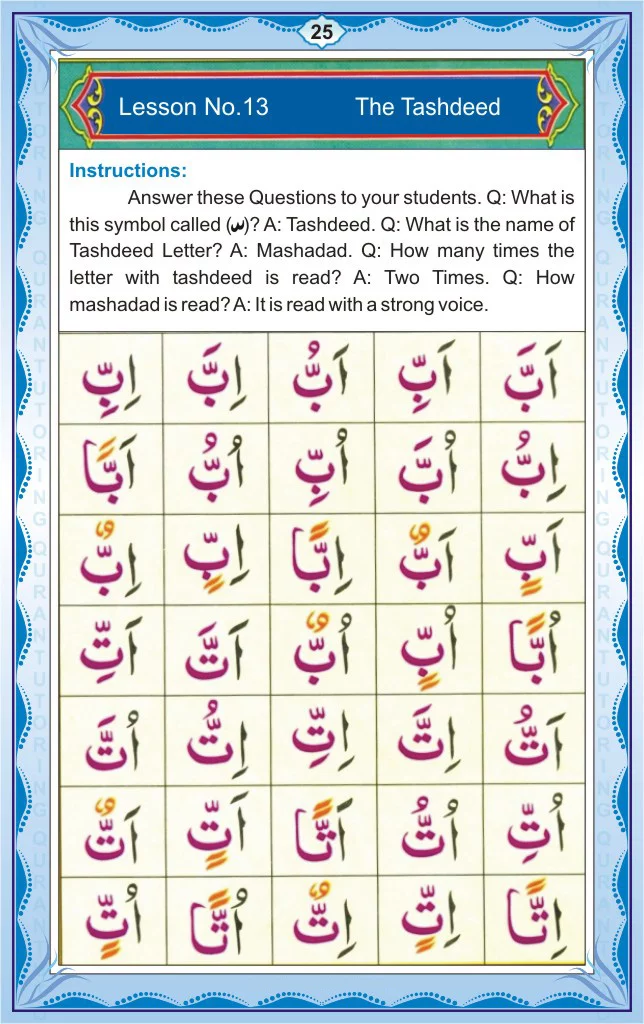 In this lesson, you'll learn the definition of Tashdeed and will be able to identify the Tashdeed. You'll also learn the rules of Tajweed related to Tashdeed.
Lesson 13: Exercises on The Tashdeed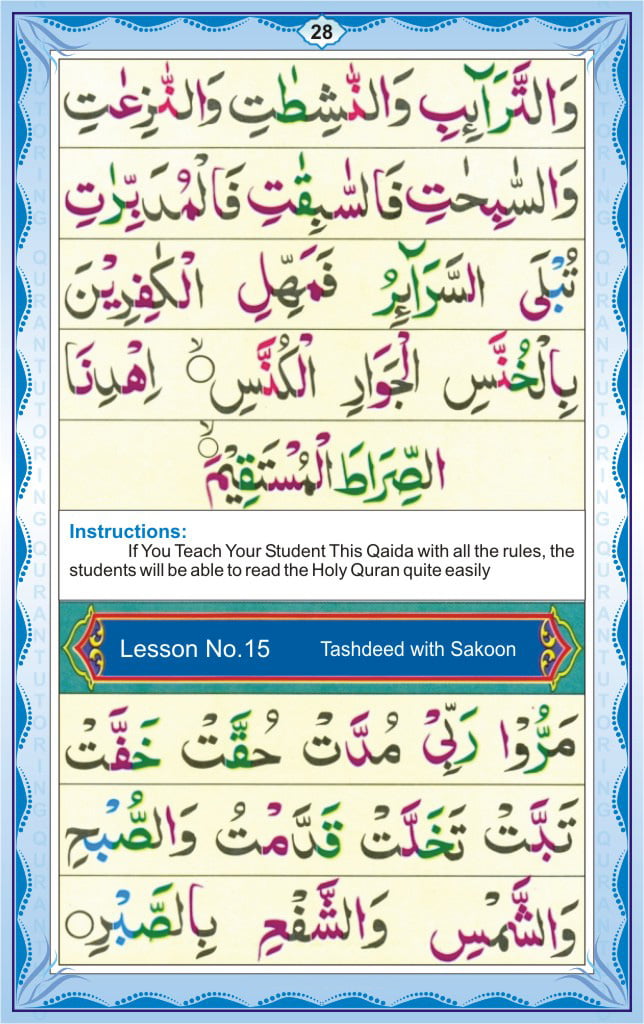 In this lesson, you'll exercise on tashdeed with some difficult and complicated words. After this lesson students will understand the pronunciation of these words.
Lesson 14: The Tashdeed with Sakoon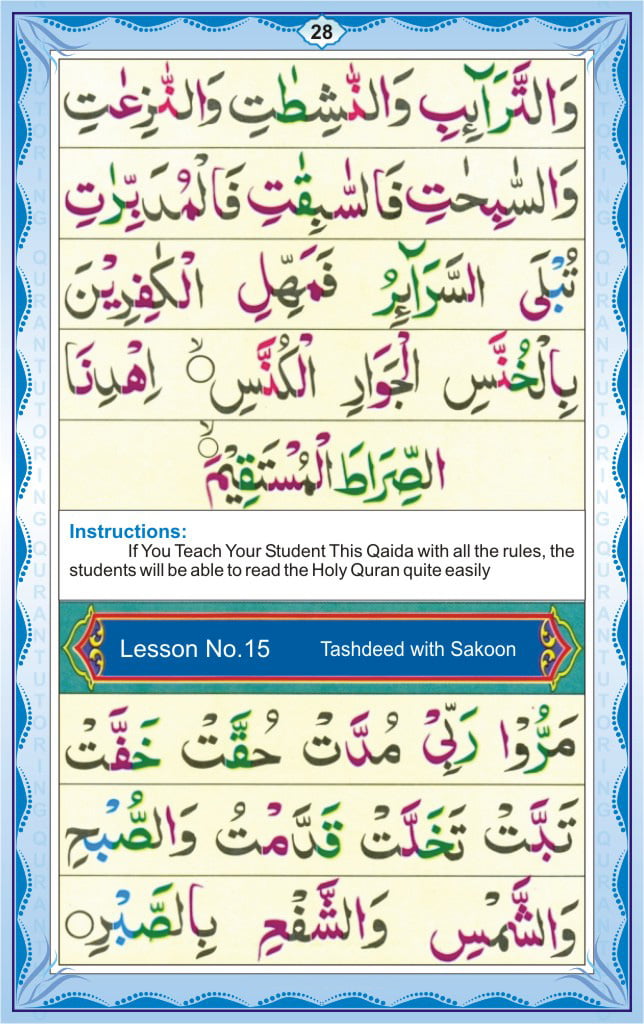 In this lesson, you'll learn and exercise on "Tashdeed with Sakoon".
Lesson 15: The Tashdeed with Tashdeed
In this lesson, you'll learn "Tashdeed with Tashdeed" which means two duplication signs.
Lesson 16: The Tashdeed with Huroof e Maddah
In this lesson, you'll learn "Tashdeed with Huroof e Maddah" which is also known as an exercise of "Tashdeed" or duplication after a long vowel. This exercise surely makes the student perfect to go ahead on his or her journey.
Conclusion
Indeed, We have sent it down as an Arabic Quran so that you may understand.

The Holy Quran [12:2]
According to the Hadith above, Arabic language importance is immense for all Muslims in the world, kids and adults, males and females. It's the key to learning about Quran, Islam, History, and even Life.
You should learn Quranic Arabic using Arabic materials. That's why Noorani Qaida is the ideal solution to understanding Arabic perfectly.
Being a self-translator is not the objective. There is no 'one book' that will teach you everything you need to learn about the Arabic language.
Non-Arabs have been learning Arabic for over 1400 years, from Africa to Indonesia. Therefore it is incorrect to assume that we can not learn as they were carried out in the past.
The standard and the regular way of learning the Arabic language is shown before and we do not need new methods to learn the Arabic language.
You will not learn Arabic just by taking part in the plan. What I indicate is that if you learn grammar only, you will not know Arabic. And if you are learning a brand-new vocabulary, you will not actually understand Arabic. On the contrary, you must take whatever.