If you're looking for the best online Hifz academy and the best tutors, you've come to the right place. In this article, we'll discuss some of the most important matters concerning the process of finding the best online Hifz tutor and why our academy represents the best choice for you.
How to find the best Online Hifz Tutor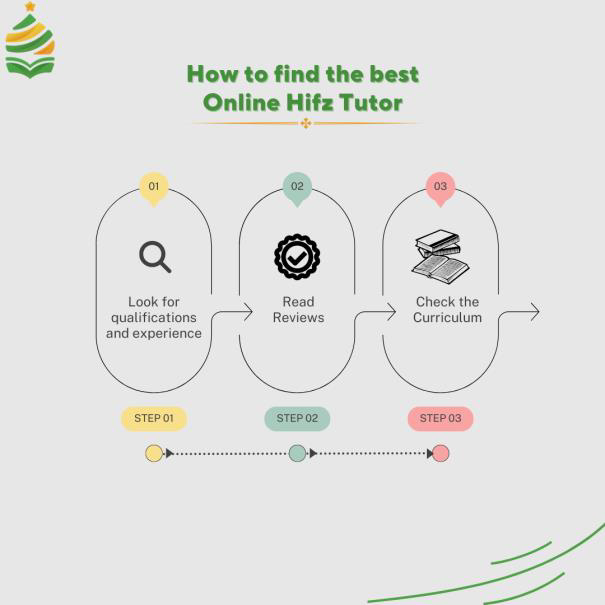 Finding the best Hifz tutor is high on the list concerning the steps you should take as you're working towards the goal of memorizing Quran. You might be facing a lot of options, so how can you choose the best one? Here's what you should do:
1.Look for qualifications and experience:
Quran memorization is a serious task that requires a lot of care and since it requires the guidance of a good Hifz teacher, one of the most fundamental aspects you need to take into consideration is the credentials of the tutor like:
Proficiency in Arabic and English:
The Hifz tutor must be proficient in Arabic, preferably native, in order to properly teach it so that it is easier to learn the Quran. He/she must also have a strong command of English to ease the communication between the tutor and the student.
Mastery of Tajweed rules:
A great part of Hifz Quran depends on your ability to apply Tajweed rules in a proper way while reciting the Quran. This requires that the Hifz teacher has the ability to teach these rules efficiently and correct any mistakes regarding their application.
Demonstrating a high level of expertise in teaching Quran is one of the most crucial things to look for in a Hifz tutor as it means that they are skilled in their subject matter and can deliver it in a variety of ways. It also means that they are familiar with the common learning obstacles and the ways to overcome them.
It is not only about proficiency in teaching Quran, but also about establishing a good communication with the student. Hence, it is necessary to look for skills such as patience, motivation, listening, and adaptability.
2.Read Reviews:
The second thing you should take into account is reading reviews of the Hifz tutor you're choosing because it gives insight into the experiences of other students who have already taken classes with the Hifz academy or tutor. These insights include information about the quality of teaching, the effectiveness of the curriculum, the flexibility of the schedule, and the safety and comfort of the learning environment.
3.Check the Curriculum:
Safely reaching your destination rests on taking the right directions and this is provided by studying the right curriculum when you're doing Hifz online. Checking the curriculum of the Hifz tutor ensures that you're going to follow a structured approach to Quran memorization tailored according to your needs and learning style.
Why Choose us as the best online Hifz academy
With our online platform, Almuhammadi Academy, you no longer need to ask "What is the best Hifz program near me?" because we provided everything that you need for Hifz Quran and it's all just one click away.
Our Hifz online courses include all the necessary requirements that would surely contribute to your success in Quran memorization.
The features of our online Hifz academy include:
1.Experienced and qualified tutors:
Our Hifz tutors possess sufficient credentials, as mentioned in the previous section, which enable them to properly help you in your learning journey.
With knowledge of the Quran, Tajweed rules and the Arabic language in addition to having a certificate or Ijaza and experience teaching non-native Arabic speakers, children, and adults, our Hifz teachers are the right choice for this task. Our carefully selected tutors include female Hifz tutors which caters to the needs of sisters looking for a female instructor to help them in memorizing the Quran.
2.Personalized and structured learning approach:
Unlike traditional learning approaches that depend on a one-size-fits-all structure, the approach we adopt at Almuhammadi Academy is one that is customizable and flexible enough to fit different learning styles and needs of learners.
3.Affordable pricing and flexible payment options:
Almuhammadi Academy strives to provide the best service with the best pricing possible. This includes providing two free trial sessions that you can easily sign up for to get a glimpse of the learning experience here at our Hifz academy.
4.Access to additional resources and support:
The effort exerted for the benefit of our students doesn't end with the end of their class. Instead, students are provided with a set of additional resources to increase their knowledge and help them go a step further on their way to memorize the Quran.
5.Use of educational games and activities:
Especially for young learners, using educational games and fun activities hugely contributes to increasing their engagement in class but they are also equally important for adult classes.
6.Flexible Schedule:
One of the perks of taking a Hifz online class at Almuhammadi Academy is the flexible time slots that we offer our students. They can choose the time that best suits them from a 24/7 schedule.
7.Regular Assessment:
Feedback is a highly effective teaching tool that serves to assess the progress of students and provide necessary instruction to correct their mistakes. Regular assessment through weekly and monthly reports is one of the features we offer students taking our online Hifz classes.
Structure of our online Hifz Program
At Almuhammadi Academy, the process of Quran memorization is divided into four levels, each with its own specific goals and plans. They are categorize as follows:
Level 1: Memorization of the whole Quran
The academy offers a comprehensive plan to memorize the entire Quran, with flexible hours and tailored to the student's abilities.

Level 2: Memorization of 3 Juz':
The second level focuses on memorizing three Juz', with an emphasis on regular revision to ensure that students maintain their progress in Quran memorization.
Level 3: Memorization of 5 Juz':
At the third level, the academy provides a plan to memorize five Juz', customized to the student's abilities and with a focus on continuity and revision.
Level 4: Memorization of Surat Al-Baqarah:
There are numerous blessings associated with reciting and memorizing Surat Al-Baqarah which makes memorizing it a priority for many Muslims in order to gain such rewards. Therefore, Almuhammadi Academy has devised this level for the purpose of memorizing Surat Al-Baqarah following a carefully structured plan based on student's needs.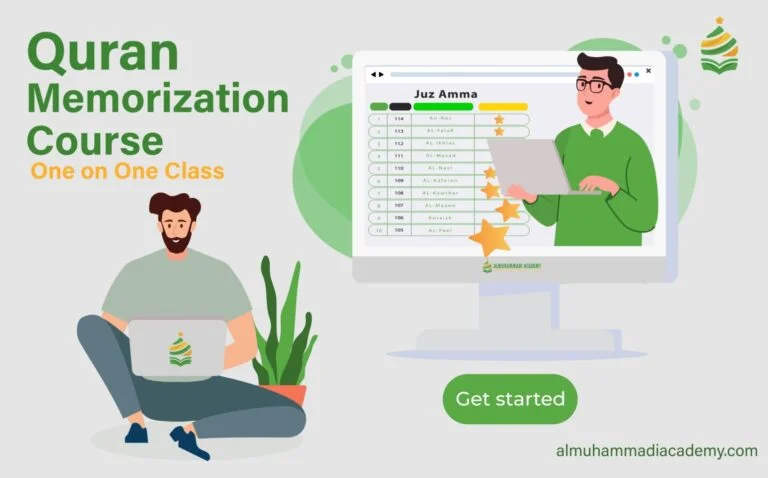 Conclusion
You don't need to spend much time considering options for an Online Hifz academy as Almuhammadi Academy is an excellent choice if you seek to memorize Quran online.
Our Hifz program encompasses sincerity, timing, environment, repetition, and review, which ensures that the students get the best possible results. If you are looking for a reliable and efficient online Hifz academy to memorize the Quran, then Almuhammadi Academy is definitely worth considering.
FAQs
Q. How long does it take for hifz Quran?
A. If you're starting from scratch without knowing much about the Arabic language, it can take up to a year or more. But, eventually, it all comes down to the time you devote for Hifz and to your learning abilities.
Q. Do I need any specific resources or tools for Hifz online?
A. All you need is a good internet connection and an electronic device such as laptop, ipad or phone. You will also need a copy of the Quran, whether physical or digital. Extra resources for understanding the Quran will be provided by your online Hifz tutor.
Q. Is Hifz online a better option than going to an Islamic center or Masjid?
A. there's no doubt that each one of them has its own advantages and disadvantages but surely, Hifz online saves a lot of time and money as well as provides one-on-one monitoring and guidance which is much more effective when it comes to memorizing the Quran. Hifz online gives you access to experienced Hifz tutors who are native Arabs.