Out of all languages, Arabic was chosen to be the language in which the Quran was revealed to Prophet Muhammad PBUH. Although many don't see the point of learning how to read Quran in Arabic for beginners since it has been translated into many languages, it is still important for Muslims to read the Quran in Arabic to have a more profound understanding of it.
If you are a beginner who wants to learn how to read the Quran in Arabic, then this blog post is for you.
How to Read Quran in Arabic for Beginners
Learning to read Quran in Arabic could be made easy if you follow these steps:
1.Start with the Arabic Alphabet:
Similar to the process of learning any language, one of the first steps you need to take is to learn the alphabet. While learning the Arabic alphabet, focus on the proper form and pronunciation of the letters. This is the foundation of all Arabic reading and writing, so it's important to get a good understanding of the letters and how they're pronounced.
2.Learn about Harakat:
If you're looking to read the Quran in Arabic, it is not enough to learn the Arabic letters as you need to learn all about the Harakat.
To put it simply, Harakat or Diacritics are used to indicate how the letters are pronounced, and they're essential for reading the Quran correctly for the following reasons:
They eliminate any confusion by defining the exact pronunciation of the word and as a result, leaving no space for guessing the correct pronunciation.
They increase your comprehension of Arabic texts, especially the Quran, since the change in them results in a change in the meaning of the text.
3.Learn the basic rules of Tajweed:
In addition to learning about the Harakat, another step ensuring that you are on the right track is learning the basic rules of Tajweed. When you learn and apply the different rules of Tajweed such as Madd, Noon Sakinah and Meem Sakinah, you are guaranteed to recite the Quran both properly and beautifully in a way that pleases Allah SWT.
4.Practice on a regular basis:
Even the most proficient Qari' of Quran needs constant practice; otherwise, they are putting themselves at the risk of losing their Quran recitation skills with the passing of time.
Regular practice is a major component of the process of learning how to read Quran in Arabic for beginners and this practice could be done in different forms. For example, imitating some of the world's most famous Qari' is a good way of practicing the recitation of the Quran.
5.Find a good tutor:
Another effective method of practice is to find a good tutor. This has become much easier with the use of the internet where you can find an Egyptian Quran teacher online or native Arab teachers in general.
Having a good teacher helps the learner find the proper path to read the Quran in Arabic if they are at a beginner level, not to mention providing feedback and regular assessment.
This has been made possible through our online courses at Almuhammadi Academy that can assist you in achieving your goal to learn to read Quran online.
Helpful tips for learning Quran in Arabic
These are some bonus tips that can help you achieve the goal of learning to read the Quran in Arabic for beginners. They are as follows:
1- Use good sources and material like Noor Al-Bayan:
The quality of your output (speaking and writing) all depends on the quality and quantity of your input (listening and reading). Therefore, it is of great importance to use source material for learning Arabic that is accurate and effective. Examples of this are Noor Al- Bayan and Noorani Qaida which perfectly suits a beginner who wishes to learn the Arabic language to master Quran recitation.
Almuhammadi Academy presents Noorani Qaida for beginners that serves to teach the proper articulation of the Arabic letters with different Harakat. You can check more details about this course from here.
2- Be patient:
Arabic isn't an easy language to learn as it has a different alphabet, grammar, and pronunciation system than English. This can make it difficult for beginners to learn, especially if they have no prior experience with Arabic.
However, if you have enough patience and resilience, you will eventually be able to learn how to read the Quran in Arabic and it is definitely worth it in the end.
3- Create a Schedule:
The significance of setting a schedule when you're learning to read the Quran in Arabic stems from the fact that it helps to ensure that you are consistent and gives you the chance to track your progress which creates motivation.
Also, setting a schedule creates a sense of urgency since it gives you the impression that you have a limited amount of time to learn the material. This can help you to focus and avoid procrastination.
The most important thing to consider when you're creating a study schedule is to set a realistic and flexible one.
Start with small goals that you can achieve and gradually increase the difficulty level as you progress and be prepared to adjust your schedule as needed.
4- Find your own learning method:
There are many different learning methods that could be followed for the purpose of learning to read the Quran in Arabic. These include self-study which is a great option if you want to learn at your own pace. Other options include taking a group class or a private course with a tutor if you want personalized attention and help from a qualified tutor.
The best learning method for you will depend on your individual learning style and preferences. If you're not sure which method is right for you, you can try out a few different methods and see what works best for you.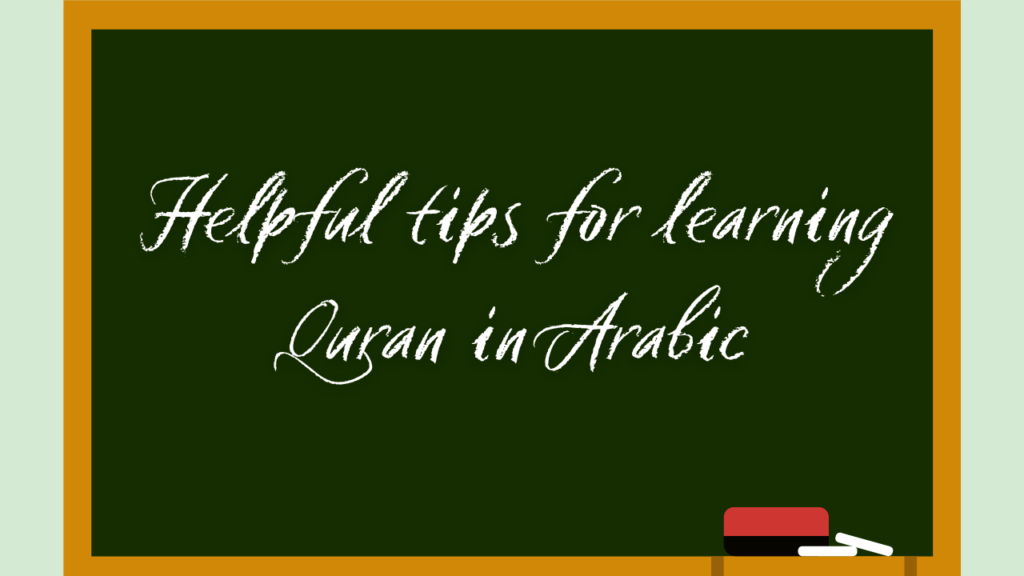 FAQs
Q: How long will it take to learn Arabic to read the Quran?
A: The amount of time it takes to learn Arabic to read the Quran will vary depending on your individual learning style and how much time you can commit to studying. However, if you're consistent with your studies, you should be able to learn the basics in a few months.
Q: What are the best resources for learning Arabic to read the Quran?
A: There are many resources available to help you learn Arabic to read the Quran. Some of these include:
 Online courses: There are many online courses that can teach you the basics of Arabic in addition to the proper application of Tajweed rules. In addition to the online Arabic classes for adults, Almuhammadi Academy also provides online Arabic classes for kids that are taught by experienced and professional tutors.
 Apps: nowadays, there's an app for everything and learning Arabic is no exception. Some of the most popular apps include Duolingo, Memrise, Babbel and many others.
Q: Can I learn to read Quran in Arabic online?
A: certainly! Online learning has made things easier for learners due to its convenience and flexibility. You can choose your tutor, the time of your sessions and have your entire learning experience specifically customized for you.