In recent year, there has been a growing interest in learning the Quran online due to the many benefits that it offers such as flexibility, convenience and affordability. Therefore, this blog post aims to clarify matters related to the process of how to learn Quran online so that you can embark on your lifelong journey of learning the Quran in order to connect with Allah, learn about His teachings, and find guidance for your life.
Simple tips to learn Quran Online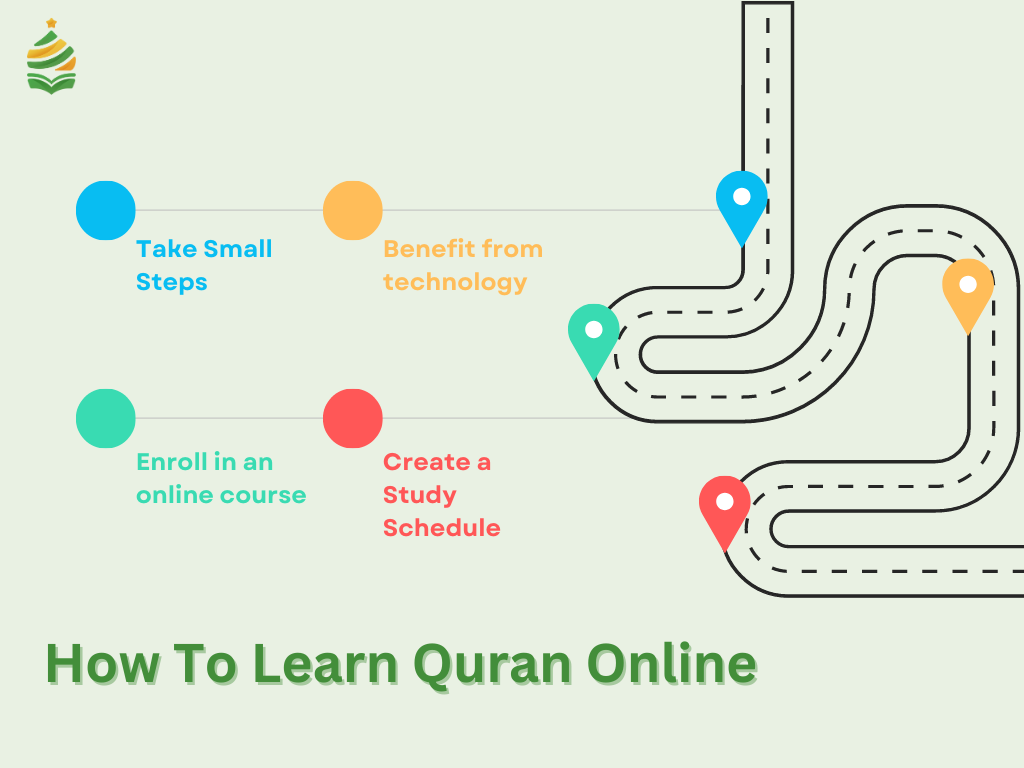 1- Take Small Steps
As stated earlier, learning the Quran is a lifelong journey that cannot be completed overnight. Consequently, a person who wants to learn Quran online should start with easy and simple steps to achieve this big goal.
Here are small but significant steps you should take on your journey:
a- Learn the basics using Noorani Qaida
The Noorani Qaida course is a comprehensive guide to learning the Arabic alphabet and the rules of Tajweed. The course is divided into ten chapters, each of which covers a specific topic.
The Noorani Qaida starts with learning all about the 29 Arabic letters, including their names, shapes, and pronunciations. It also includes learning about rules of word formation, the Harakat, and other essential Tajweed rules.
b- Practice with short Surahs:
After you gain the skill of being able to read in Arabic, you should practice this knowledge through the recitation and memorization of short Surahs like the ones in Juz' Amma.
This is recommended since these Surahs consist of short verses, and they are also commonly recited in the daily prayers.
2- Benefit from the tools of technology:
Aside from the traditional methods of learning, many technological tools have made the job way easier for you. There are many applications that can help you with learning Quran online by giving you access to different recitations of the Quran which you can imitate and even give you feedback on some of the mistakes you've made while reciting. In addition, you can access various sources and material for more information on the rules of Tajweed.
3- Enroll in an online Quran course
Another major benefit of using technology is demonstrated in having access to many qualified Quran teachers who are available online from all over the world. You can find teachers who are fluent in Arabic and who can teach you the correct pronunciation and Tajweed.
Pay attention to the following points as you browse through different platforms:
 Start by researching different online Quran courses and programs
 Find out more about their curriculum.
 Make sure the course is accredited.
Fortunately, all these factors are found in our courses at Almuhammadi Academy so be sure to check our online Tajweed classes!
4- Create a study schedule
Organization is key when it comes to learning Quran online so aim for a well-organized study schedule that suits your routine. This schedule should have slots for memorization as well as revision and it should be flexible to fit your lifestyle.
5- Don't learn alone
Find a friend or family member who is also interested in learning the Quran. You can quiz each other, discuss the meaning of the verses, and help each other stay motivated.
6- Make time for reflection and Tafseer
One of the main purposes of learning the Quran is to internalize it and make it a part of your daily life. Therefore, it is important to take some time to reflect on the meaning of verses after you have read them. Consider these questions:
What does it mean to you?
How can you apply them to your day-to-day life?
7- "All things are difficult before they are easy"
Remind yourself constantly that even though the start of the learning journey could be hard, it surely will get easier with practice and dedication. After some time, you will definitely start to notice the results in your recitation of the Quran.
Why you should choose Almuhammadi Academy to learn Quran Online
Our tutors at Almuhammadi Academy are highly qualified to help you learn to read the Quran online. They are both male and female, and they have all undergone a rigorous evaluation process. Our tutors are:
 Proficient in both English and Arabic, so they can communicate effectively with students from all over the world.
 Have Ijazah in different Qira'at
 Use a variety of teaching methods, including PowerPoint presentations, visual aids, audios, videos, and learning activities.
We are confident that our tutors will help you achieve your goal of learning to read the Quran online. Please contact us today to learn more about our online Hifz programs for adults and to schedule a free trial lesson.
Personalized plans and activities are essential for helping students learn to read the Quran. This is because each student learns at their own pace and has their own unique set of needs and abilities.
By observing each student's progress and tailoring the curriculum accordingly, our teachers can help students reach their full potential.
Interactive learning is important in learning Quran online because it allows students to engage with the material in a more meaningful way. We understand that this can help students to better understand the concepts being taught, as well as to retain the information for longer periods of time.
One of the main reasons why many students prefer online Quran classes is the flexibility of scheduling. Almuhammadi Academy offers students a 24/7 schedule, which means that students can choose the time that best suits their needs. This is a great option for students who have busy schedules or who live in different time zones.
At Almuhammadi Academy, we believe that everyone should have the opportunity to learn the Quran, regardless of their financial situation. That's why
we offer our courses at an affordable price. We want to make it possible for students from all walks of life to learn the Quran and to benefit from its teachings.
Our courses such as the Quran memorization course provide students with a supportive learning environment that gives them the chance to thrive.
Conclusion
Now that you have a better idea about the perks of learning Quran online and some of the steps you can take towards it, we encourage you to check out Almuhammadi Academy.
We believe that everyone should have the opportunity to learn the Quran, and we are committed to making our courses as accessible as possible. We hope to see you soon!
FAQs
Q1: Are there any requirements for learning Quran online?
A1: There are no specific requirements for learning the Quran online. You need some qualities such as motivation, dedication and patience.
Q2: How long does it take to be able to read the Quran fluently?
A2: If you are a beginner with no prior knowledge of Arabic, it may take you 3 to 4 months to learn the basics of the language and to start reading the Quran.
To fully master the recitation of the Quran, it may take you up to 6 to 8 months. However, this is just a general estimate and the actual time it takes will vary depending on the individual