Are you ready to embark on an extraordinary journey of Quranic memorization? Look no further than our exclusive Hifz program near me.
Almuhammadi Academy unveils a one-of-a-kind opportunity to immerse yourself in the world of the Quran. Our program combines cutting-edge techniques, passionate tutors, and a supportive community to create an unforgettable Hifz experience. Get ready to learn and memorize the Quran like never before!
Our 5 Levels of Hifz Program near me
Memorize the entire Quran with dedication and guidance from a qualified teacher.
Focus on memorizing the three parts (Juz') of the Quran, laying a strong foundation for further memorization.
Expand memorization to cover an additional two parts (Juz') of the Quran, advancing recitation and memorization skills.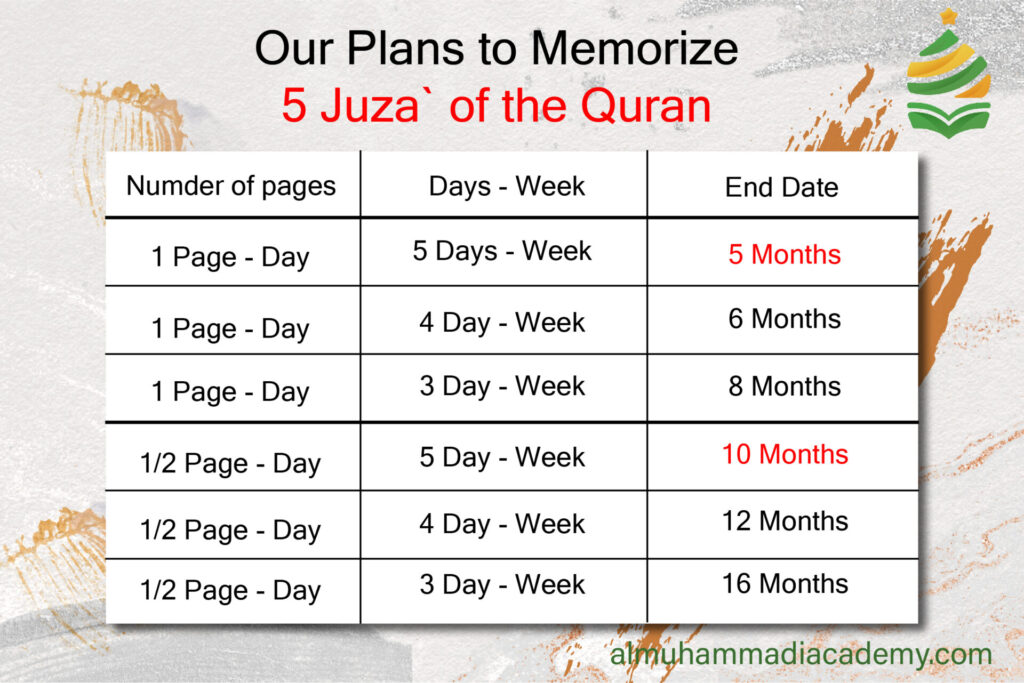 Concentrate on memorizing Surah Al-Baqarah, the second chapter of the Quran, known for its comprehensive teachings.
Memorize the 30th part (Juz') of the Quran, which includes the last chapters, important for daily prayers and recitation.
Excellent tutors with lots of expertise
1.Highly Skilled Tutors:
Our excellent tutors possess extensive expertise in Quran memorization. They have mastered Tajweed rules and are skilled in teaching students of all ages and abilities.
2.Graduation and Certification:
Graduates from Azhar with Ijazah and Linguistic Proficiency: The tutors in our Hifz program near me are graduates from prestigious institutions like Al Azhar University. They hold Ijazah (certification) in Quran memorization, showcasing their mastery of the Quranic sciences.
Additionally, they possess a deep understanding of Arabic, being native Arabic speakers while also being fluent in English. This ensures effective communication and a robust reference for students, facilitating a seamless learning experience.
3.Speed Accessible:
Our Hifz program near me ensures that you have convenient access to quality Quran memorization classes online from home without having to travel long distances. We understand the importance of getting a program that's easily accessible in your community.
4.Tailored Curriculum:
Our Hifz program near me follows a carefully designed curriculum that's tailored to satisfy the requirements and goals of scholars in your area. The curriculum focuses on effective memorization techniques and Tajweed mastery.
5.Individualized Attention:
We believe in providing individualized attention to every student in our Hifz program
near me. Our tutors work closely with students, identifying their strengths and areas for
improvement, and customizing the teaching approach to maximize their memorization
potential.
6.Comfortable Learning Environment:
Our Hifz program near me fosters a cozy and welcoming learning environment. We understand that a positive atmosphere plays an important role in effective learning, allowing students to focus, grow, and thrive in their Quran memorization journey.
7.Community Support:
Our Hifz program near me recognizes the importance of community support within the memorization process. We encourage students to interact with Quranic events, competitions, and initiatives.
8.Flexible Scheduling Options:
We understand that life is often busy, so our Hifz program near me offers flexible scheduling options. Whether you favor weekday evenings, weekends, or alternate timings, we attempt to accommodate your schedule to ensure a seamless learning experience.
9.Continuous Progress Evaluation:
Our Hifz program near me regularly evaluates students' progress to make sure that
they're achieving their memorization goals. We offer detailed feedback on their performance.
Note: Almuhammadi Academy also provides Hifz classes for Adults with the best qualified teachers.
Characteristics Of Our Hifz Classes
We provide a personalized approach to Quran Hifz, catering to the unique needs and abilities of each student. Our experienced teachers work closely with students to ensure effective learning and progress.
Our full-time Hifz program near me is led by highly qualified and knowledgeable teachers who have extensive experience in teaching Quran memorization. They provide guidance, support, and continuous evaluation to help students achieve their Hifz goals.
We follow a comprehensive and structured curriculum designed to facilitate the
memorization of the entire Quran. The curriculum includes Tajweed (proper pronunciation and recitation rules), understanding the meanings of verses, and developing a strong connection with the Quran.
We offer flexible timing for our Hifz classes to accommodate students' busy schedules. Whether it's weekday evenings or weekends, we strive to ensure that students can conveniently attend classes while balancing their other commitments.
Our Hifz Quran near me ensures individual attention and effective learning by maintaining private classes. This allows our teachers to closely monitor the progress of students and provide personalized guidance and support.
Quran Hifz classes near me for ladies:
our Online platform, specialized in online Quran Hifz classes for ladies.
Our tutors are qualified female Quran teachers who offer online Quran classes for sisters.
We conduct regular assessments to monitor students' progress. These assessments help track memorization accuracy and provide a roadmap for further development.
Enhanced Focus and Concentration:
Students sharpen their focus and concentration abilities. This process enables them to enhance cognitive functioning, improve memory retention, and sustain unwavering attention during extended periods of recitation.
Quran Hifz classes near me often encourage active community engagement. Students partake in various activities, such as Quran recital competitions and public recitations. We emphasize community involvement and encourage students to engage in various Quran-related activities.
This includes participating in Quran competitions and recitation events, allowing students to showcase their memorization skills and contribute positively to society.
Our commitment to students goes beyond the classroom. We provide continuous support through parental involvement to ensure a holistic and successful Hifz journey.
Outcomes of the Hifz program near me
1.Quranic memorization:
The Hifz program in your vicinity emphasizes mastery of the five levels of the Hifz Quran, including the whole Quran, three Juz', five Juz', Surah Al-Baqarah, and Juz' Amma. Under the guidance of experienced tutors, students embark on a journey, committing themselves to memorize the divine words of Allah.
Mastering the rules of Tajweed The student becomes proficient in his recitation of the Holy Quran, following all the rules of Tajweed correctly and perfectly. At every stage of his memorization, he becomes
more proficient than before, and our qualified teachers help him.
2.Spiritual Growth:
The Hifz program near me aims to foster a profound spiritual connection with the Quran. Through intensive memorization, students experience personal growth, heightened mindfulness, and a deepened sense of devotion to their faith.
3.Ijazah certificate:
After completing memorizing the Holy Quran, the student obtains an Ijazah, which is a
license that allows him to recite the Holy Quran proficiently with the rules of tajweed,
which later qualifies him to teach others, benefit those around him, have an impact on
the world, and spread goodness and the teachings of the Quran to the entire society.
conclusion
Our Hifz program near me is not just an ordinary Quran memorization endeavor. With our dedicated tutors, innovative teaching methods, and vibrant community, we ensure that your Hifz journey becomes an amazing one. Join us in this remarkable pursuit of Quranic excellence.
FAQs
Q. How to Hifz Quran at home easily?
● Set achievable goals for how much you want to memorize.
● Create a consistent schedule and designate a quiet study space.
● Learn Tajweed rules for proper recitation.
● Repeat and review regularly to reinforce your memorization.
● Reward yourself constantly along your journey in the Quran to continue.
Q. Can I listening to the Quran while working out?
Yes, Listening to the Quran while working out can be a great way to combine spirituality with physical activity. It can provide a sense of tranquility, motivation, and a deeper connection with the verses. It creates a peaceful and focused environment for simultaneous nourishment of the mind, body, and soul.
Q. How to become hafiz Quran?
● Set a sincere intention and seek Allah's guidance.
● Find a qualified Quran teacher for guidance.
● Establish a consistent study schedule.
● Begin with small portions and gradually increase memorization.
● Practice recitation during prayers and with your teacher.
● Stay patient and persevere.