"When there's a will, there's a way" is a commonly used expression and nothing is more convenient to the topic of this blog post than this. If you seek an easy approach to learn Quran for beginners and you have the will and discipline to do so, we offer you the way; online noble Quran classes for beginners.
Almuhammadi Academy is an online platform that provides excellent Quran lessons for beginners taught by qualified and experienced teachers. You can start your learning journey with us by taking our free trial lessons for any course.
Why You Should Choose Almuhammadi Academy for Quran Learning for Beginners
There are a lot of factors that make Almuhammadi Academy the best choice for learning to read the Quran for beginners, such as:
1.Professional Quran Tutors
Our professional and well-trained Quran tutors have passed a careful process of evaluation and assessment that makes them better equipped to teach Quran recitation for beginners. Our
teaching staff includes both male and female tutors who help students to make their learning process easy and efficient. They possess the following qualities:
Their command of both English and Arabic allows them to communicate with students of different nationalities and gives them a deeper understanding of the Arabic language.
They incorporate some of the most cutting-edge technology used in teaching to facilitate learning how to read Quran in Arabic for beginners.
Our tutors are certified with an Ijazah of teaching Noorani Qaida and Noor Al Bayan, which are considered the most favorable methods to learn how to read Quran for beginners.
2. Customized Quran Classes
Learning Quran for beginners could be a challenging task that requires close attention from the tutor to offer the necessary guidance for the learner. This is better accomplished through our interactive one-on-one video sessions that are designed to fit different abilities and learning styles.
3. Fun and interactive reading Quran for beginners classes
One of the most effective ways to learn Quran for beginners is found in classes that are designed to be interactive and fun. Online Quran learning for beginners at Almuhammadi Academy allows students to be active participants in the learning process and provides tons of fun activities which, in turn, creates a better and more attractive learning experience for them.
4. Daily Assessment
Daily assessment is a key component of our courses to learn to recite Quran for beginners. Frequent assessment helps the tutor check the student's performance and modify the teaching methods in order to ensure the maximum benefit for students.
5. Constructive Feedback:
Our tutors keep track of their student's progress in Quran learning and provide the necessary feedback for them. In case the student is a child, the parents are regularly updated concerning any improvement in their child's level or any setbacks that interrupt their progress. This feedback is presented after each lesson and could be followed by a meeting to discuss any learning obstacles that students might face.
6. Flexible schedule
Having a flexible schedule for our online Quran classes for beginners where students choose the day and time from a 24/7 schedule that is most suitable for their daily routine helps to remove the hassle of trying to fit classes into their busy routine. Students can have access to their online Quran classes regardless of their place on the map as long as they have an electronic device and a good internet connection.
7. Privacy and Confidentiality
Our learners' privacy is a top priority for us since we believe you need to feel protected and relaxed. It is our responsibility to keep the sessions confidential.
8. Positive and motivational environment
Even those who possess a strong set of discipline and determination can be discouraged, especially at earlier stages of learning, where they make many mistakes and struggle to grasp concepts related to the Arabic language.
Therefore, having a positive and motivational environment, like the one we provide at our academy, goes a long way in supporting our students and giving them the necessary boost of confidence and encouragement.
9. Affordable Fees
If you wish to know how to learn the Quran for beginners, Almuhammadi Academy presents top quality sessions in learning the Quran for beginners at affordable prices.
10. Free Trial Sessions
To get a glimpse of the learning experience at Almuhammadi Academy, we offer you a free class trial for two sessions, which serve to help students evaluate our course and tutors. Once you are satisfied with our classes, you can proceed to take a course on how to recite Quran for beginners. Based on the trial session, the tutor prepares a customized study plan for you that meets your learning potential and goals.
What you will learn in our Quran for beginners course
The first step in understanding the Quran for beginners is learning the Arabic language which is why we created a course for beginners called "Learn Quran Reading Basics", where we focus on how to read the Quran in Arabic for beginners.
By the end of this course, you will be able to read the Quran with the correct pronunciation without making even one mistake. An easy way to learn Quran for beginners that we incorporate in the course is to use one of two widely known books; Noorani Qaida and Noor Al Bayan which require no prior knowledge of the Arabic alphabet. These methods fulfill the following objectives:
The learning objectives of our Al-Quran for Beginners Course
Get students familiar with the names of Arabic letters and their pronunciation.
Have a better grasp of the articulation of special Arabic letters and how they differ from other languages.
Learn how to read Arabic letters with Fatha, Dummah, Kasrah, and Sukoon.
Provide knowledge of the rules for creating words from Arabic letters.
Introduce the basics of Tajweed.
Improve the way students recite Quran.
Understanding the Quran for Beginners.
Offer students a deeper appreciation of Quranic verse.
These two methods follow a pattern that starts with reading the Arabic letters, then moving to reading single Arabic words and building towards reading short verses from the Quran. Eventually, students will be able to recite the Quran accurately and fluently.
How to learn Quran as a beginner?
Learning to recite the Quran is essential for Muslims to understand the book of Allah that was revealed for the guidance of all mankind. For many non-native Arabic speakers, the motivation to learn to read the Quran in Arabic comes from a desire to deepen their understanding of the Quran's message and gain a greater appreciation of its brilliance.
Learn Quran online for adults is an ideal option for adult beginners to embark on their journey of studying the Quran, providing convenience and accessibility from the comfort of their own homes.
Learning to read Quran for beginners can be a challenging but immensely rewarding process, and with the right tips, beginners can make significant progress in their journey toward mastering it. If you're not sure how to start reading Quran for beginners, here are some helpful tips:
1) One step at a time:
It could be tempting, at first, to take on more than you can handle by jumping straight into trying to recite full verses of the Quran. This will serve the opposite purpose and you will fall directly into the trap of disappointment and frustration. Instead, start with the basics; learn the form and pronunciation of Arabic letters, and then move on to reading single words and gradually build up from there.
2) Practice is your friend:
A key ingredient to know how to learn Quran for beginners is continuous practice. This is one of our crucial instructions to our students; to practice the rules and basics they learn in the course so that the information sticks better in their minds and their recitation becomes more fluent and natural.
3) Shadow your favorite Qari:
Imitating the recitation of your favorite Qari is another important recommendation that we advise you to follow to guide you during the process of learning how to start reading Quran for beginners. Try to pay attention to their articulation of Arabic letters and the intonation they follow in their recitation.
4) Don't forget revision:
The tutors at Almuhammadi Academy don't just keep on adding new information each session without reviewing the previously taught rules. Revision is significant for the student to remember the rules and also to remove any confusion when it comes to the application of these rules.
5) Use Technology:
Fortunately, learning to read the Quran for beginners doesn't have to be as tiresome as it used to thanks to technology. You can use several apps and websites to learn the Arabic language in an interactive way and even monitor your recitation mistakes.
6) Reward yourself:
Because we realize the importance of having a supportive learning environment in Quran learning for beginners, we motivate our students through words of encouragement, gifts, and certificates for every milestone they reach.
Mistakes to avoid in learning the Quran for Beginners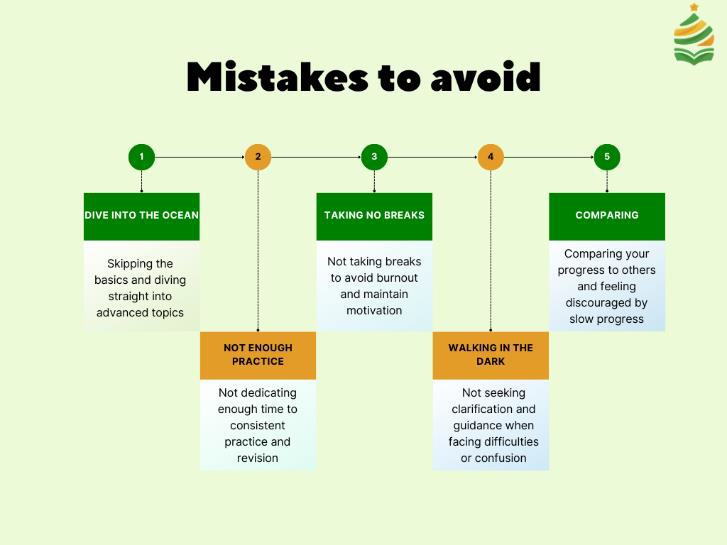 Here are some mistakes to avoid when you start learning to read Quran as a beginner:
Skipping the basics and diving straight into advanced topics.
Not dedicating enough time to consistent practice and revision.
Neglecting the importance of proper pronunciation and Tajweed rules.
Not taking breaks to avoid burnout and maintain motivation.
Focusing too much on memorization without understanding the meaning of the words.
Not seeking clarification and guidance when facing difficulties or confusion.
Comparing your progress to others and feeling discouraged by slow progress
FAQS
 How to learn Quran online?
Learning the Quran online has become increasingly popular in recent years. To get started, you should:
1- Find a reputable online Quran academy that offers courses specifically designed for beginners such as our own, Almuhammadi Academy. These courses typically cover the basics of Arabic grammar and vocabulary, as well as the rules of Quranic recitation.
2- Have a reliable internet connection, a computer or tablet, and a quiet space to study.
3- Purchase a Quran in Arabic with English translation, a notebook, and a pen.
With dedication and consistent practice, you can make great progress in your journey to learn the Quran online.
 Are online Quran classes for beginners accessible to females and children?
Yes, our online Quran for Beginners course is accessible to everyone including females and children. We have female Quran tutors for our sisters and we have professional and well-trained tutors to teach the kids.
We also provide classes to students from all age groups as this shouldn't, in any shape or form, prevent you from learning to recite the Quran.
 If I want to learn how to read Quran for beginners, are there different levels in these classes?
Yes, our classes are designed to include three levels for understanding the Quran for beginners:
1.Beginner Stage:
This marks the first phase for learners to grasp the basics of Arabic letters and words. At this stage, you will greatly benefit from our Noorani Qaida course to help you with learning the basics of the Arabic language.
2.Intermediate Stage:
During this phase, our emphasis is on reciting each line with utmost care for following Tajweed rules.
3.Advanced Stage:
Upon completing the first two stages with flying colors, learners may proceed with the third and final stage. At this level, students may enroll in the online Quran memorization course and get an Ijazah.
 How to teach Quran to beginners?
On the other hand, if you're looking to teach Quran for beginners yourself, it's important to follow these guidelines:
a- Start with the basics and build a strong foundation. Begin by teaching basic Arabic letters and sounds, then gradually move on to simple words and phrases.
b- It's also crucial to emphasize the importance of Tajweed rules and proper pronunciation.
c- Utilize interactive tools such as videos, audio recordings, and visual aids to make the learning experience more engaging.
d- Encourage students to practice regularly and provide feedback to help them improve.
e- Finally, create a supportive and encouraging environment to help students feel comfortable and motivated to learn.